Told mostly in pictures. All photos that appear in this article are the author's.
On February 25th, 2020, my husband and I found out we were pregnant.
The first case of COVID-19 was reported in the state we live in, Tennessee, on March 5th.
On March 6th, we drove south to celebrate our honeymoon, 7 months after our wedding, and now, our new baby.
The state of Tennessee issued a state of emergency on March 12th, and we returned home the next day. Our jobs had both turned remote. Schools, restaurants, and gyms were shut down.
Like everyone else, we bought a lot of food. Enough to last us a couple of months since we had no idea what to expect.
On March 17th, we had our very first ultrasound.
We learned at that appointment that our baby would be due October 29th.
My pregnancy was, thankfully, uneventful, but the rest of the world wasn't.
Schools did not reopen before the end of the 19-20 school year.
The numbers of death rose. The data was extremely limited and conflicting about what we should and shouldn't do as expecting parents. We bought food in bulk and isolated.
Just to pick up groceries, my husband wore a face mask and latex gloves, and when he returned, he threw the bags and his gloves in our trashcan outside. He then washed his hands, put up the groceries, and re-washed his hands. All of that just because I was pregnant, and we didn't know what to do.
As far as my pregnancy went, it progressed normally. I had regular doctor's visits where I, of course, had to wear a mask at all times. At one point, they closed the waiting room at our OB's office, so to attend our appointments together, my husband had to wait outside until I was called back.
In June as the numbers started to decline, many of the restaurants and gyms re-opened with restrictions. Soon after, stores and other non-essential businesses opened too.
Many of the schools in our area reopened to in-person instruction in August.
Our jobs, which had been remote since March, were now to remain remote for "an indefinite period of time."
We were relieved to learn that we could stop worrying that COVID-19 was going to spread on our grocery bags or that it would be dangerously fatal to me or our baby. The more data and the declining numbers helped us feel better about bringing a baby into the world at this time.
Because we couldn't have in-person gatherings, we never had a baby shower. Some family members and close friends just mailed us presents to our home.
In September, we took socially distanced maternity photos. Our photographer stood six feet or more away from us at all times, and we wore masks whenever we weren't taking a photo.
Due to issues outside of our control, I ended up having a scheduled c-section. We arrived to the hospital on October 22nd, 2020 at 10am.
This was the last maternity photo we took before we drove to the hospital:
At the hospital, I was only allowed one visitor for the entirety of our stay. This, of course, was to be my husband.
I was tested for the coronavirus as soon as we arrived. If I tested positive, there was a likelihood our baby would be kept separate from us and that I wouldn't even be able to nurse. Regardless of the results, we'd need to wear a mask at all times around hospital personnel.
I tested negative, thankfully, and our baby joined us at 12:40pm. She was perfect.
We spent two days in the hospital before we returned home.
Family members and friends weren't able to see her, so we scheduled FaceTime and Zooms to introduce our new bundle of joy to the people we cared about.
A week later, we had socially distanced newborn photos. Just like for our maternity photos, the photographer stood six feet or more away from us at all times, and we all were masked.
Our lives with a newborn weren't all that different than if we'd had her not during a pandemic.
We had lots of sleepless nights.
But also really sweet bonding time.
No one goes into a pandemic thinking, "What a great time to get pregnant and have a baby!" But, in many ways, this time has been incredibly special.
Because our jobs were both still remote, neither one of us had to take extended parental leave to get time with our daughter. We both returned to work quickly, and we trade off caring for her during the day. We didn't lose any income and can both pursue our careers. We also lost no time with her since "going back to work" didn't mean leaving the house to go to a physical office.
She's two months old now, and she's doing wonderfully.
She wasn't able to take photos with Santa this year, but at least my husband was able to sub in!
2020 hasn't been a great year, but we've made the most of it for our growing family.
To see a video of this story, check it out below: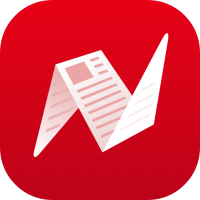 #nbholidaycheer