Photo by Rachel Dillin
Very few people can say they had a fake first Christmas, but my daughter can. Each year as we decorate our tree, I pull out that fake ornament and give her a hard time over how she failed to arrive for her first Christmas.
This year would have been her 13th Christmas, but instead, it's her 12th. Interestingly, this unexpected situation is now one of my favorite holiday memories.
December Babies
I never wanted to have a baby in December. One reason is that my own birthday is five days after Christmas. Although my mom always did a great job of celebrating my birthday, it's hard to compete with the celebrations of Christmas and then New Year's.
After thinking I'd never have a December baby, I ended up having one because life isn't always how you plan it.
In 2007, I announced my pregnancy, and three days later, my youngest sister also found out she was expecting. Our due dates were three days apart, and both near Christmas. Mine was December 23, and hers was December 26.
Ultimately, I scheduled an induction on December 21 for various reasons. I bought all the baby's first Christmas items, including an ornament, cute outfit, and matching blanket. Everything was ready to go to have a newborn to celebrate the holiday.
My husband and parents took off work and showed up for the planned day. All day long, we waited, and despite the medical intervention, my daughter never appeared. My doctor gave me a choice to have a c-section or go home and wait. I chose to go home and wait, expecting that she would come any day. There was still a chance she'd make it on or before Christmas.
Christmas 2007
My doctor told me I couldn't go further than 45 minutes from the hospital, and our families lived two hours away. That meant we would be at home for the holiday with our little immediate family of three. Our son was two-and-a-half at the time.
We put up a small tree that year, and because I hadn't planned a holiday meal, we ended up heating up frozen chicken and prepared mashed potatoes, which was a far cry from what we'd normally have at our family gatherings.
Our son tore through his gifts, and the small things I'd purchased for our daughter went unopened. All day I kept expecting to feel signs of labor, but nothing happened. We took an afternoon walk, and still, our daughter didn't come.
Twin Cousins
I had a checkup on December 27, and they did an ultrasound. My daughter measured big, especially her head. The doctor offered a c-section again, and I chose that since there had been no change in the week since my failed induction. We scheduled the OR for December 28 at noon.
I called my parents, and they made arrangements to come watch our son again. I arrived at the hospital at 10 am. While I was in triage, my youngest sister called to tell me she was in labor, and she headed to her hospital, which was about an hour away from where I gave birth.
My daughter was born at 12:34 pm, and we finally got our room later that afternoon. Around 4 pm, my mom left to go be with my sister. All evening I waited for an update. Finally, a few minutes before midnight, I needed to go to sleep, but I couldn't without hearing what was happening with my sister.
I was "that person" who called moments after delivery. My sister gave birth to her daughter shortly before midnight, meaning our daughters had the same birthday. They call themselves twin cousins.
My Birthday
I spent my 30th birthday in the hospital recovering from the c-section. They sent me a big cupcake and a special birthday tray liner for lunch that day. Later in the afternoon, we were released to go home. My middle sister called to wish me a happy birthday a few minutes after we arrived, and she had an announcement to make — she was expecting. Her son was born nine months later.
If I thought my December birthday was difficult before having a baby the same month, it is even more so now. I rarely even have my own cake because we have had so many sweets from the holiday that nobody wants anything else by the time we get to five days after Christmas. However, I would not give up my daughter or her fake first Christmas for anything. It's grown to be one of my favorite holiday memories.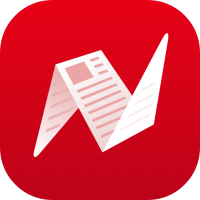 #nbholidaycheer