(Photo: Blind man Joseph M. Monks wraps holiday presents / photo by Pamela Hazelton)
It's true. While my blind husband wraps presents for the rest of the family, I sneak his right in there. And I don't feel guilty about it at all.
For years, I was the gift wrapper. I used to spend an enormous amount of time trying to be meticulous about every single crease and fold and tuck, vying to apply tape just right so each package looked elegant and professionally wrapped. And then I had enough, and actually paid someone to wrap everything for me. For my sanity, it was worth every penny.
Then one Christmas season, my husband decided he wanted to wrap some gifts. So he went to his parents' house several nights leading up to the big day. He'd watch football with his parents while wrapping gift after gift. His father has since passed, but it's still a tradition. During the two weeks leading up to Christmas Day, my husband spends several evenings at his mother's house wrapping presents. For me, for the nephews, for his sister. Gifts for his mom get wrapped at our house.
Amid all the cookie baking, chocolate dipping, and other festive responsibilities, I found less and less time to wrap what I was giving to my husband. It often turned into a last-minute, stressful task. Until a light bulb went off.
He's blind, I thought. How would he even know?
So, a few years ago, while I frantically geared up for the holidays, I took a stand against the few-days-before stress and stuck one of his gifts into the pile.
During the process, I shot some video to - ahem - show off how good a job the blind guy does. When he'd finished one of his own, holding it up to show me how great the package came out, I said, "Hey, thanks for wrapping your own gift."
I posted the video on Facebook, and most of our friends got a good laugh out of it. A few scolded me for pulling one over on the unsighted.
To those who think it horribly rude to give a blind guy his own presents to wrap, this is for you. Because I'm not wrapping his gifts this holiday — he is. And he knows it, too.
Truth be told, Joe doesn't mind. He's come to expect it. We're pretty solid on how we play pranks on each other. He plays plenty on me throughout the year, so as far as I'm concerned? He owes me. Trust me; he deserves it.
I wonder how many of my girlfriends out there are jealous. Seriously, how many hubbies will sit down at the table, roll up their sleeves, and leave their spouses be? I can spend my time better listening to Christmas carols and drinking whatever tickles my fancy as I bake and prepare for the holiday get-togethers. At the same time, Joe takes over the tedious task of measuring, cutting, and folding paper around a box. It's a win-win.
Let's tally all the chores around the house, shall we? Joe doesn't do dishes or laundry. He doesn't dust. He doesn't vacuum or mop the floors. And I regularly have to scrub dried peanut butter off the bottom of the sink because, somehow, he can't seem to lick all of it off the spoon (isn't that what dogs are for?).
I'm willing to wager if I asked Joe right now to turn on the front left burner on the stove, he wouldn't even know which dial to turn. Forget about turning on the oven. If it can be microwaved or air fried, Joe's your man.
Okay, I'll be honest: I work, I cook when time allows, and I only rarely clean, but it's more than what he does. So I say he can wrap all the presents.
It's not like I make all the decisions while he does the manual labor. Joe picks out all the wrapping paper, too — the designs and paper quality. He picks out the tape, the boxes, and everything in between. I'm not one to demand how he wraps, just that he does it. I don't care what time of day it's done, nor how ugly the paper is.
I think of everything I do and everything I could nag Joe to do. Mow the lawn (okay, he tried that, and it was a disaster - I still can't get the tire tracks off the white fence), clean the litter box, fold the freshly cleaned clothes... No, I don't feel guilty sliding the blind guy's gifts into the "to be wrapped" pile.
And, yes, I'm careful about how things are packaged. Anything odd-shaped goes into a box. Anything that can rattle around is first padded with packing peanuts or tissue paper. Confession: It's super hard to mask the scent of incense.
Having Joe wrap his own goodies is also a form of payback for making his sister do the same decades ago. He would ask her to wrap gifts for his mother and then change the tags. I'm now her holiday hero.
Not having to rush to wrap is an excellent stress reducer. And passing off Joe's gifts as someone else's is all in good fun.
If Joe didn't take kindly to wrapping gifts, he surely wouldn't do it. So as long as he's going to sit down at the table and wrap into the wee hours, I'm handing him boxes that will receive a "To Joe" label.
When you think of all the pressure the holidays can put on someone - entire families, even - giving everyone something to laugh about is the perfect solution. So long as Joe is willing to be the wrapper in our house, I'm going to keep handing him boxes, no matter who they're for.
Besides, there's nothing like watching your sightless husband open presents on Christmas Day as he recognizes the package's size, shape, and quality. He'll give a good chuckle, knowing full well it's his second time around trying to figure out what it is.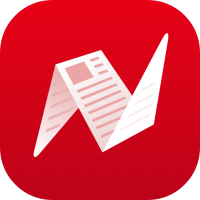 #nbholidaycheer