I love books. I have since even before I could read them myself. Childhood bedtime stories were a high point of the day and learning to read? Magical. In fact, even now it seems magical that we can look at these combinations of letters and know what the person who put them together meant.
I love libraries and Amazon.com madly, but let's face it. There is absolutely nothing like walking into a good bookstore and breathing in the smell of all those books. Looking around and being surrounded by books on every subject and in every genre.
When that bookstore is an independent bookstore, you never quite know what will greet you. You walk into someone's vision of a book wonderland.
Independent Bookstore Day is a one-day national party celebrating national bookstores across the country, led by the American Booksellers Association. It's held the last Saturday of April each year (Though last year was postponed to August due to COVID), so this year's celebration is Saturday, April 24, 2021.
Seven hundred and forty bookstores around the country plan to participate. Only about half will be open, but they are finding ways to make it work. Some will have virtual events, some will open to limited capacity, others will move their celebration outside, and some are back to business as usual.
One local independent bookstore will be participating in the celebration is Winston-Salem's Bookmarks.
Bookmarks is more than just another bookstore. It is also a literary arts non-profit hat works in various ways to increase the love of reading. They do this extensively and are always finding new ways to extend the reach if this mission. Their Festival of Books & Authors is a particular favorite event and plans are that it will occur in person September 25, 2021.
The bookstore itself is inviting, spacious, and bright. The book selection is excellent. The love of reading practically explodes, wherever you look. There's a section devoted to staff pIcks, often including why they liked it, as well as recommendations from the public. One of the missions of the store is to connect people with books and authors, so if you're not sure what you want your next read to be they give plenty of help.
They also keep things interesting offering a Signed First Editions Club, a Kids Club, and Mystery Boxes for the adventurous reader. 
The store has continued to spread the love of reading even with the COVID restrictions of the past year. Discussions with authors and online book clubs have kept people connected.
For Independent Bookstore Day, some of the special offerings will be:
Bookmarks will be holding multiple giveaways on Saturday; our grand prize winner will receive a beautiful print from Bookish Birds and a bag of books. To participate in the grand prize and other giveaways visit online or in store on Saturday for your chance to win.
Sharks In the "Time of Savior" by Kawai Strong Washburn and "Hummingbird Salamander" by Jeff VanderMeer are exclusive books only available to purchase on Independent Bookstore Day.
Free Jenny Lawson oracle decks, available to the first eight people who request one tomorrow.
An exclusive Independent Bookstore Day edition of a new short story by Stephen King and Joe Hill only available Saturday
Check their Facebook page and other social media for more special offerings and activitie..
Currently Bookmarks is open at limited capacity Monday through Saturday from 11 a.m. to 7 p.m. and Sunday from 12-6 p.m. Only 10 people are allowed in the store at a time, check-in with an employee is required as you enter, masking and using hand sanitizer is required, 20 or 30 minute visits are allowed, and maintain8ng 6 feet of distance is required with other customers and staff. Bookmarks also offers curbside pickup and mail order avilable, See their website or call (336) 747-1471, extension 1000, for more information.
The store is located in downtown Winston-Salem at 634 West Fourth St. #110. Parking is located behind the store. Use 632 Holly Ave. in your GPS. There is also parking in the Nash Building parking lot at the corner of Poplar and W. 4th St. (610 West Fourth St.) Handicapped parking is available at the Foundations Early Learning Center Parking Lot (300 Poplar St.)
Whether you make a visit to Bookmarks, attend a virtual event, visit another independent bookstore or simply take a few minutes to read a good book, celebrate independent bookstores in some way. Many, like Bookmarks, are pulling book orders for patrons to pick up or filling orders by nail. That book you have been wanting to read? Maybe this is a good time to order it from an independent bookstore and keep them flourishing.
Have you been to Bookmarks? What is your favorite part of what they do or your favorite memory of one of their events? Or how do you plan to celebrate Independent Bookstore Day?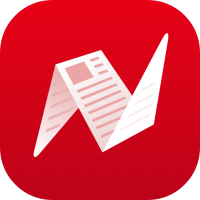 Have you downloaded the News Break app? It's a great way to keep up with local news. You can download it here.