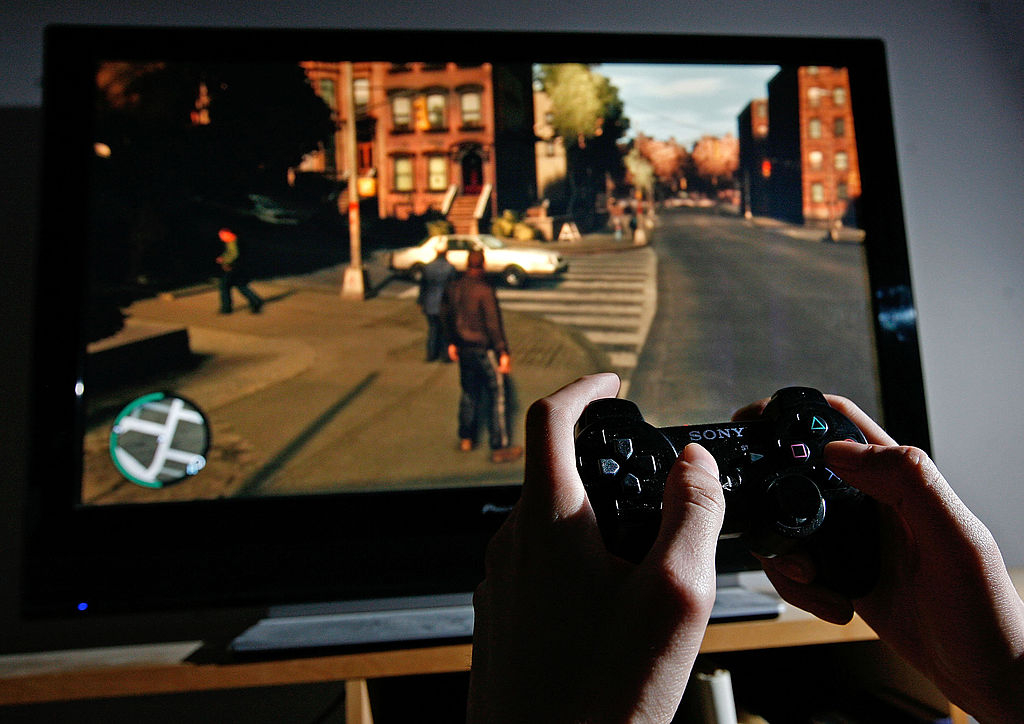 Hello and welcome to the Business Beat.
Today is Thursday, September 22. Here's what you can expect this week:
Five stories. This week, I'm covering the latest interest rate hike, a massive leak of "Grand Theft Auto VI" and more.
Other notable headlines to skim, including a rise in workers returning to offices, data leaks from American Airlines and Uber, a big recall from Nissan and much more.
A data snapshot of the stock market, including stock index prices.
This week in business history. This week in 1837, Tiffany & Co. first opened for business in New York City.
Editor's picks, including a feature on eBay's targeted and cruel harassment of two online reporters critical of the company, a report on the significant amount of misinformation on TikTok and more.
The weekly news quiz.
Federal Reserve raises key interest rate once again, eyes more hikes into next year
The story: The Federal Reserve raised interest rates by three-quarters of a point on Wednesday to between 3% and 3.25%, the third such raise in a row, and suggested there were more hikes to come, with an aim to reach 4.4% by the end of the year, according to the Associated Press.
Why you should care: At this point, a recession appears more likely than less likely, if you trust historical economic signals amid the interest rate hikes. Every time interest rates go up, anything that requires borrowing money becomes more expensive. That means employers are less likely to hire workers and more willing to lay them off, home buyers are less likely to build or finance homes, companies are less likely to invest in their own infrastructure like upgrading factories or buying new vehicles and on and on. All of that money not going into the economy has a negative multiplier too in that people who can no longer find jobs won't have as much money to spend. But less spending across the whole economy should drive inflation down, which has its own obvious economic benefits.
Related reading:
Deal struck, rail strike avoided but risks remain
The story: With an assist from the Joe Biden administration, rail companies and unions representing tens of thousands of workers struck a tentative deal last week, avoiding a strike, according to The Hill.
Why you should care: Obviously, had a rail strike occurred, you would've heard about it. But the U.S. isn't out of the woods yet. Though a tentative contract has been agreed to, all 12 unions vote on Thursday and if any union fails to approve the deal, nearly 125,000 rail workers could go on strike, paralyzing the economy, and all the goods and materials that travel by rail, at a perilous time. The companies did concede on some key quality-of-life issues for workers, but it may not be enough for all the workers, many of whom appear unconvinced the contract contains promised benefits.
Related reading: U.S. rail labor deal hammered out over sandwiches and baked ziti
'Grand Theft Auto VI' gameplay leaks after hack
The story: Take-Two Interactive, the force behind the popular "Grand Theft Auto" series, confirmed Monday that gameplay footage leaked by a hacker from the upcoming "GTA VI" was authentic, according to Reuters. The dozens of videos showed footage of robberies, gunplay, a female lead character and various open-world activities the series is known for.
Why you should care: With Take-Two's confirmation, this leak was arguably the biggest gaming leak in history and its shares responded accordingly, dropping 6% in response to the news. The company was able to restore some of its losses after announcing the leak wasn't expected to affect development, but the damage of Take-Two's proprietary source code being out in the world is already done. Even if the leak doesn't affect the game's release timeline (a very, very tall order), the company will likely have to change some features and overhaul its internal security policies. (Let's just say some people are going to be fired.) That's time-consuming and expensive for the company and only keeps the game further away from being released.
Spotify unveils new audiobook store in U.S.
The story: Music streaming service Spotify launched its new audiobook store in the U.S. on Tuesday, featuring over 300,000 titles, including popular titles from the "Harry Potter" series and public domain classics like Mary Shelley's "Frankenstein" and Jane Austen's "Persuasion," according to the Associated Press.
Why you should care: Amazon's Audible store has been simply dominant in the online audiobook space. Spotify's formal entry into the market will hopefully present some much-needed competition in the billion-dollar audiobook space.
Trump, children and Trump Org sued by New York attorney general
The story: New York's attorney general filed a civil suit Wednesday against former President Donald Trump, his children Don Jr., Eric and Ivanka and the Trump Organization, accusing the family and business of fraud from 2011-2021, according to Reuters. NY AG Letitia James said the company regularly misrepresented the value of its real estate holdings to receive better loans and tax benefits, with her office claiming at least 23 assets that she called "grossly and fraudulently inflated." The Manhattan District Attorney's office in New York City has separately charged the Trump Org with criminal tax fraud, with a trial set for Oct. 24.
Why you should care: It's impossible to set aside the political ramifications here because it's only top news because of Trump, but let's try at least a bit. The Trump Organization is a big business and the namesake of the former president. All of these legal troubles, especially if the company is found guilty, could seriously damage the company (and with it, the former president's political prospects). Ultimately, because the politics are inseparable from the person here, this lawsuit could turn into one of the biggest trials of the next few years as it plays out in court, with ramifications for Trump, the company and the country.
Other notable headlines
The stock market snapshot
As of Wednesday at the market close, here were the prices of six of the major U.S. stock indices, according to CNBC:
S&P 500: $3789.93 (Last week: $3946.01)
S&P 100: $1721.39 (Last week: $1788.65)
Nasdaq: $11220.19 (Last week: $11719.68)
Nasdaq-100: $11637.79 (Last week: $12134.40)
Dow Jones Industrial Average: $30183.78 (Last week: $31135.09)
Russell 2000: $1762.16
This week in business history: Iconic Tiffany & Co. first opens for business
On Sept. 18, 1837, Tiffany & Co. officially opened in New York City, according to Tiffany & Co. Founded by Charles Lewis Tiffany and Teddy Young, the business was initially named Tiffany & Young. It wasn't a bad day to be in the business of fancy goods either, with a take of $4.98 on the store's first day of sales, roughly $154 in present-day dollars.
Editor's picks
News quiz
How closely were you reading? Test out your knowledge with this quick news quiz and scroll up or check next week's newsletter for the answers.
The Federal Reserve raised interest rates by three-quarters of a point this week, the ______ such raise in a row.
To avoid a rail strike, all _____ rail unions must vote to ratify the new contract.
The New York attorney general sued Trump and the Trump Organization this week, accusing the company of fraudulently inflating the value of its _________ assets to obtain better loans and tax benefits.
Many tech companies end up paying big money to settle lawsuits in Illinois, thanks to the state's strong __________ law.
Last edition's answers: 1) Inflation data from August showed consumer prices rose 8.3% from the same time last year. 2) Two rail unions had refused to agree to a new contract and threatened a strike if the rail companies didn't negotiate on quality-of-life issues. 3) Visa, Mastercard and American Express have begun implementing a new product code that would help them track the sales of guns. 4) 15,000 nurses in Minnesota went on a three-day strike.
Thanks for joining me this week. For weekly business news delivered to your inbox every Thursday, subscribe to the Business Beat. See past issues here.