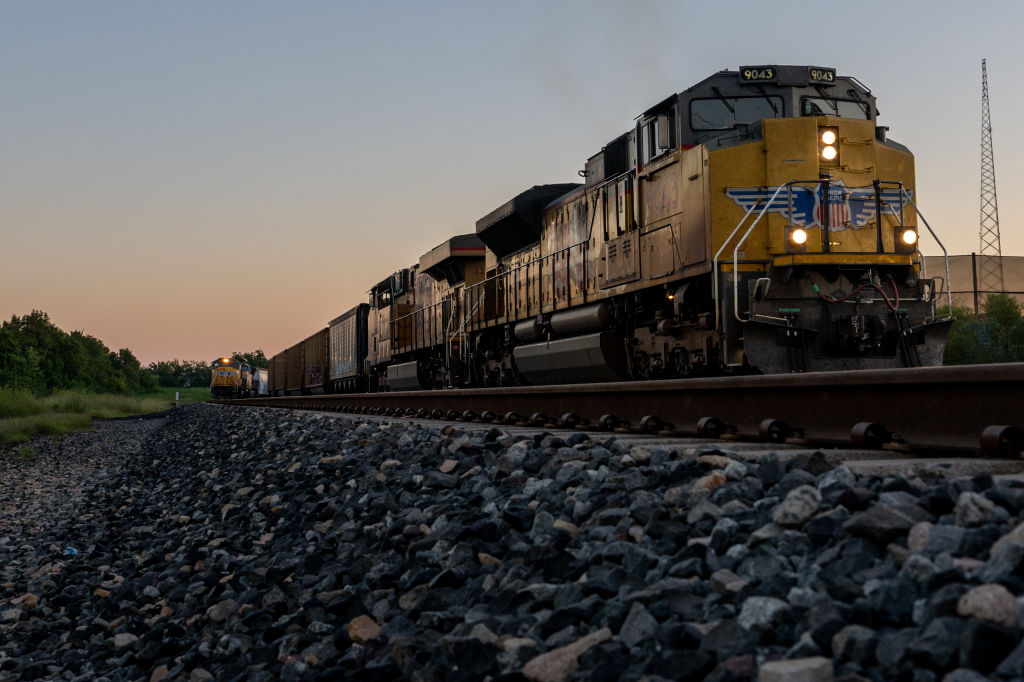 Hello and welcome to the Business Beat.
Today is Thursday, September 15.
Unfortunately, some subscribers have failed to receive recent emails due to technical delivery issues. I promise we're working on it and hope to have the issues resolved soon.
Now, here's what you can expect this week:
Six stories. This week, I'm covering the latest inflation data — it's not great — a potential massive rail strike, the totally wild decision to give away Patagonia to fight climate change, a Twitter whistleblower's testimony in front of Congress and more.
Other notable headlines to skim, including a big strike from nurses in Minnesota, possible contamination in HelloFresh ground beef and more.
A data snapshot of the stock market, including stock index prices.
This week in business history. This week, I've got a grab-bag of history because I just couldn't choose. Read up on a famous Wells Fargo robbery, the collapse of Lehman Brothers or the founding of General Motors.
Editor's picks, including confirmation of a U.S. labor shortage and the continued growth of modern slavery in the last few years, made worse by converging global crises.
The weekly news quiz.
Gas falls but food, rent continue to drive up inflation
The story: Inflation data from August came in on Tuesday and it's not looking great: Consumer prices rose 8.3% from the same time last year, driven by high food and rent costs, and 0.1% from July, according to ABC News. Though gas prices are falling and inflation didn't rise as much from July to August as from June to July, core prices, which don't count food and energy, were still up 6.3% from the same time last year.
Why you should care: Given the efforts from the Joe Biden administration and the Federal Reserve's rate hikes, the continued rise in inflation is objectively bad news and the stock market greeted it as such, with the S&P 500 dropping more than 4%. Barring any drastic changes in the next few months, this news is likely to force the Fed into a more aggressive posture where it must consider even larger rate hikes, even as high as a full percentage point when it meets next week. The upshot? A recession and so-called hard landing of the economy seem increasingly unavoidable if the Fed wants to tame inflation and that's going to damage growth at the cost of lowering prices.
National rail strike looms as unions, companies fail to reach deal
The story: Eight of 12 unions have agreements with railroad companies but the two largest, the Brotherhood of Locomotive Engineers and Trainmen and the SMART Transportation Division, said they will strike if the companies don't negotiate on quality-of-life issues, such as sick time, vacation time, staffing and attendance and scheduling policies, according to CNBC. So far, the unions have not begun a strike, though they've been able to since Friday, and negotiations with the companies are ongoing.
Why you should care: Being a rail worker is a difficult business with not a lot of flexibility for workers. All they're asking for is some degree of predictability and consistency, you know, quality of life. But regardless of where anyone stands on the workers' demands, a strike could cause significant damage to the economy. Roughly 40% of the nation's goods are transported by rail, and a strike would immediately idle over 7,000 trains, costing the economy up to $2 billion per day, the rail industry says. Even if you took the rail industry's estimates with a grain of salt, the immediate costs would be large and the ensuing damage to the supply chain and inflation could be even worse.
Related reading:
Twitter whistleblower testifies to Congress
The story: After filing a whistleblower complaint that became public last month, Twitter's former top security official, Peiter Zatko, told Congress Tuesday that the social media company failed to safeguard its system against foreign agents and spam, then lied about it, choosing "to mislead its board, shareholders, lawmakers and the public" instead of addressing the issues, according to The New York Times.
Why you should care: Despite its woes, Twitter is one of the most important American companies for its role in the public discourse. If Zatko's allegations are true, Twitter's even worse off than we thought in light of its merger struggle with Tesla CEO Elon Musk. Plus, these kinds of allegations validate the critiques Musk has made of the company while trying to exit his acquisition agreement.
Related reading:
Major credit cards to start tracking gun purchases
The story: Visa, Mastercard and American Express all said over the weekend they would begin implementing a new merchant category code for gun retailers approved Friday by the International Organization for Standardization, according to CNN. The change will allow them to better track gun purchases in the hopes of catching gun violence before it can occur.
Why you should care: Thanks to the Second Amendment, gun violence is in many ways a uniquely American problem with no easily achievable solutions. This move by credit card companies will at least make tracking guns a lot easier and that could make law enforcement easier, allowing police to catch people who aren't supposed to have guns and other suspicious transactions. For another angle, this change also raises important questions about privacy. Guns are politically hot right now, so there's some logic to tracking their purchases, but it can become a slippery slope that's hard to undo.
Patagonia founder gives company away to fight climate change
The story: The founder of Patagonia, 83-year-old Yvon Chouinard, said Wednesday he was placing ownership of the company in a special trust that will use company profits to fight climate change, according to BuzzFeed News. "Instead of extracting value from nature and transforming it into wealth for investors, we'll use the wealth Patagonia creates to protect the source of all wealth," Chouinard said in a statement.
Why you should care: WOW! I'm not exactly sure why you, specifically, should care, but this is one of the most insane and amazing things I think anyone's ever done in business. Instead of "going public," Chouinard said the company is "going purpose." If this is successful and Patagonia can still manage to profit, survive and contribute money to help Mother Earth, the world may finally have a viable way to point the massive capital and profit engine of capitalism at causes that can actually help improve the world in a measurable and ongoing way.
Fraud trial begins for Nikola founder Trevor Milton
The story: Prosecutors said Tuesday that Trevor Milton, the founder of electric vehicle company Nikola, lied and exaggerated about the company's low-emissions technology, deceiving investors and making himself a billionaire in the process, according to Reuters. Milton's deception allegedly began in November 2019 and he left the company in September 2020 after short-seller Hindenburg Research released a report calling the company a "fraud." The founder has pleaded not guilty to two counts of securities fraud and two counts of wire fraud. In December, Nikola agreed to pay $125 million to settle fraud claims from the U.S. Securities and Exchange Commission.
Why you should care: Like the trial of former Theranos CEO Elizabeth Holmes, this case examines the fine line between optimistic claims and outright fantasy and fraud. In both cases, real people have suffered, whether it's the retail investors who bought Nikola stock after hearing about its supposed technology or the patients who got bad blood test results from Theranos. Beyond any victims, fraud in the electric vehicle space is particularly frustrating because every dollar that goes to someone who's lying is a dollar that can't go to a company that actually has the technology to spur an electric vehicle revolution.
Other notable headlines
The stock market snapshot
As of Wednesday at the market close, here were the prices of six of the major U.S. stock indices, according to CNBC:
S&P 500: $3946.01 (Last week: $3979.87)
S&P 100: $1788.65 (Last week: $1804.07)
Nasdaq: $11719.68 (Last week: $11791.90)
Nasdaq-100: $12134.40 (Last week: $12259.39)
Dow Jones Industrial Average: $31135.09 (Last week: $31581.28)
Russell 2000: $ (Last week: $1832.00)
This week in business history
This week, I've got another grab-bag of history because I couldn't choose just one. But hopefully, my struggles are your enrichment! Dig into some notable events from this week in history below.
On Sept 12, 1983, a Wells Fargo depot was robbed of around $7 million by men associated with Los Macheteros, a militant Puerto Rican nationalist group seeking to overthrow the United States Government in Puerto Rico. [NBC Connecticut]
On Sept 15, 2008, in the throes of the financial crisis, Lehman Brothers filed for Chapter 11 bankruptcy in what remains the largest bankruptcy filing in U.S. history. [Investopedia]
On Sept 16, 1908, one of America's most illustrious companies, the General Motors Corporation, was founded by William C. Durant as a holding company in Flint, Michigan. [Detroit Historical Society]
Editor's picks
News quiz
How closely were you reading? Test out your knowledge with this quick news quiz and scroll up or check next week's newsletter for the answers.
Inflation data from August showed consumer prices rose _______ from the same time last year.
Two rail unions have refused to agree to a new contract and threatened a strike if the rail companies don't agree to negotiate on __________ issues.
Visa, Mastercard and American Express have begun implementing a new code that would help them track the sales of _________.
On Monday, around 15,000 _________ in Minnesota went on a three-day strike to demand changes that would improve staffing and care for patients.
Last edition's answers: 1) The Labor Department's latest jobs report released Friday showed 315,000 new jobs in August and an increase in labor force participation by 0.3%. 2) An Irish regulatory agency recently fined Instagram $402 million, saying the platform failed to protect the privacy of children. 3) Web infrastructure company Cloudflare pulled its services from hate site Kiwi Farms on Saturday after receiving "an unprecedented emergency and immediate threat to human life." 4) On September 5, 1882, the first Labor Day parade in the U.S. was held in New York City.
Thanks for joining me this week. For weekly business news delivered to your inbox every Thursday, subscribe to the Business Beat. See past issues here.